NYSSCA TAPS HOAG AND MOTT FOR HALL OF FAME HONORS
Dutch Hoag of Bath, N. Y. began his racing career after leaving the Army in 1949. He put together his own 1937 Ford V-8 coupe. There were no wins the first year but he honed his racing skills and began his assault on the racetracks of the northeast.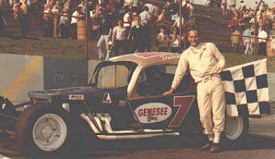 Dutch Hoag with the checkered flag after a win at Fulton (N.Y.) Speedway in the early 1970's in his famous Genesee Beer No. 7.
His first win came at the New York Memorial Stadium in Corning, N.Y. Later that year he drove at Monroe County and then the Lord Brother's at Langhorne.
After winning championships at Monroe County and Bath Speedway he became New York State NASCAR title holder in 1953 and 1954 while driving the red and white No. 96 "Penn Yan Express."
Dutch won the Race of Champions driving for Bobby Burns. Hoag returned to the Langhorne victory lane in 1960 in the Dave McCredy car and in 1963 Hoag drove to his third Langhorne win in the Bill Wimble back up car.
Next Hoag proved himself on the asphalt and won the 1967 Langhorne Race of Champions on the paved Pennsylvania oval. The same year he returned to win on dirt at the New York State Fair Championship in Syracuse.
In 1968 Dutch drove for his own team made up of Clay Ovenshire, Don French and Gene DeWitt. His car was now blue and yellow and numbered with a 7. His home tracks were Spencer, Shangri-La and Fulton. The same year he won his fifth ROC.
Dutch took one turn at Daytona, in 1969 driving a Dodge Grand National car that he and Gene DeWitt purchased from Ray Fox. He finished second to LeRoy Yarborough.
He ended his racing career on dirt as it started. In the seventies he ran regularly at Weedsport. After retiring he worked with his son Dean who drove super modifieds at Oswego. He now supports his grandson, Alex as the third generation of Hoag racers at New York speedways.
Bob Mott of Schenectady, NY, was one of the pioneer drivers at the brand new Fonda Speedway. Before coming to Fonda Mott won races at many other speedways, Stateline Speedway, Empire in Menands, etc.
Around mid-summer 1953, Bob named driver Jeep Herbert to pilot his famous Yellow 3. The Mott/Herbert team proved to be a successful move and over the next couple years, they piled up numerous victories and top five finishes including the 50 lap Eastern State Championship in 1955.
In 1956 Bob put Fonda hot shoe Pete Corey in his yellow No. 3, another great move. The team piled up 8 feature wins and 12 top five finishes.
In 1957 the Mott/Corey team continued their winning ways and top five finishes, to include a victory in the biggest race of the year, a 100-lap event. While in victory lane that night Bob put the now famous, "Mott's Yellow #3" up for sale. Paul Pankorik, owner of Jimmy Luke's #113, immediately purchased it, and the #3 returned to the speedway, renumbered #213, as the team car to Luke's #113.
This ended Bob's ownership of stock cars, but not his involvement as he later teamed up with Irv Taylor to build the #111 owned by Henry Caputo and piloted by Taylor. This car also found it's way into victory lane several times.
Bob Mott passed away in 1999, but for those of us who were around racing in those "Pioneer Days", we will always remember the famous "Mott's Yellow 3".